Dienstag, 27. Dezember 2016
The Oxbow
diegolego, 15:28h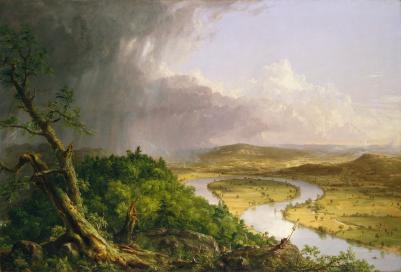 "
View from Mount Holyoke, Northampton, Massachusetts, after a Thunderstorm
, commonly known as The Oxbow, is a seminal landscape painting by Thomas Cole, founder of the Hudson River School. The painting depicts a Romantic panorama of the Connecticut River Valley just after a thunderstorm. It has been interpreted as a confrontation between wilderness and civilization."
Unterdessen ist Euch sicherlich auch schon mal aufgefallen, daß das amerikanische Bier sehr hopfig schmeckt (außer natürlich
McSorley's
). Die
Fort Hill Brewery
braut das sogenannte Hera Pils: "Brewed in honor of Hera, Queen of the Gods. Beautifully light and refreshing, Hera Pils is a traditional Czech-style Pilsner. Crisp and clean with delicate hop flavor, this lager is as elegant as the goddess herself." Nur mal so als Randbemerkung.